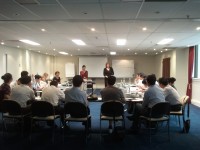 In January 2011, Merit Solutions Australia hosted an information exchange about public sector recruitment with a Chinese delegation of 18  from the City of Xi'an in Shaanxi Province.   Members of the delegation were mainly directors from human resources and management departments of Xi'an People's Government and government affiliates.  The leader of the Delegation was Mr. He Yuan, Deputy Secetariat, General Office of Xi'an Municipal Committee.
The visit with Merit Solutions Australia was part of a study tour organised by the Australian Technical Experts Network (ATEN), which is located at the Universities of Beijing and Canberra.  The ATEN was established to promote international linkages and collaboration between Australia and China. The focus of this exchange was "how to recognise, develop and utilise talent in the Australian public sector" together with "recruitment, training and assessment of the employees in public sectors".   The information exchange was facilitated by an interpreter provided by ATEN.
An introductory seminar was conducted by Anne-Marie Carroll, Managing Director of Merit Solutions Australia.  Anne-Marie introduced Merit Solutions explaining its 15 years experience in working with the Queensland Public Service, Local Government and the Australian Public Service.   She covered the network structure of the organisation and the experience of more than 20 HR consultants from Merit Solutions working with over 5, 000 selection panels.
Anne-Marie's talk also covered the Australian practices in relation to public sector recruitment and selection, selection tools and talent development and management.  The challenges she identified for Australian public sector recruitment included the aging workforce, succession planning, generational change, advances in technology and attraction/retention of talent, especially engineers and planners.
The discussion covered recent trends in recruitment and selection within the Australian public sector such as automation and web-based processing, acceptance of applications on an ongoing basis, streamlining of recruitment and selection processes, job candidate care, introduction of capability frameworks and the use of social networks.
Anne-Marie was assisted in the concluding question and answer session by three senior Merit Solutions consultants – Jan Sturgess, Jane Woodland and Angela Bryan.
The information exchange about public sector recruitment between Merit Solutions Australia and the Chinese Delegation from the City of Xi'an concluded with the traditional exchange of gifts between Mr. He Yuan and Anne-Marie Carroll.
Exchange of Business Cards
***********************************************************************************************************
Merit Solutions Australia provides human resource consultancy services to the the Queensland Public Service, Local Governments and the Australian Public Service.   Services provided to the public sector include recruitment and selection, training of job applicants and selection panels, psychometric assessment, management development, organisation design and job descriptions, coaching and the development of HR practices.