For our Government clients seeking assistance with their selection processes, services we offer include: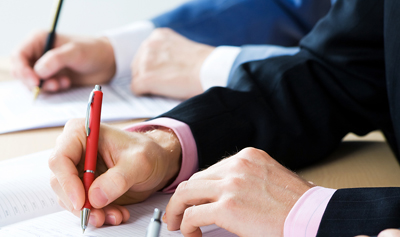 Scribing is frequently requested by our government clients looking for an independent record of interview processes and the deliberations of the selection panel. Our experienced consultants provide a valuable service that frees up members of the selection panel to get on with their busy job and ensures that documentation requirements are met without compromising timeframes.
Overwhelmed by the number of applications? We can help you manage large applicant pools so that good candidates are not lost through time delays. When applicant pools are limited, we can provide professional insight to a candidate's strengths that might otherwise be overlooked. Whatever the case, we provide fast and efficient shortlisting services without sacrificing quality.
Find out more about Shortlisting…
Our consultants are available to participate as an independent panel member when you need to complete your selection panel. The best part of having our experienced consultant on your panel is the time you save by allowing them to organise and coordinate the process for you without compromising timeframes or quality.
Find out more about Independent Panel Members…
Scribing services are frequently requested where risk and governance considerations are paramount, especially with the recruitment of senior officer or executive roles. Our consultants are able to provide professional reports, worthy of scrutiny at the highest levels, in very short timeframes. We will also liaise with internal HR staff to ensure the smoothest possible transition through subsequent approval processes.
Find out more about Executive Selections…
Psychometric Assessment tools are proven contributors to effective recruitment outcomes. Our team includes organisational psychologists who have expertise in psychometric assessment. We are also able to access multiple providers of assessment tools to ensure that you get the best possible match of psychometric assessment to job requirements.
Find out more about Psychometric Assessments…
Other support we provide include:
Referee Checks
Administration Support
Applicant Assessment
Interview Questions
Background Checks