Psychometrics in Use - Remote Working

Remote Working and COVID 19
Due to the current COVID-19 pandemic, more and more employees are being asked to work from home.  Whilst this may seem appealing at first, what are the long-term ramifications of working from a more isolated environment? 
Remote Working for some, can lead to a lack of motivation, loneliness and even depression.  By understanding individual personality preferences, management could gain a quicker sense of those that may be more challenged by working remotely compared to others that may thrive in a more autonomous environment.
The assessments below are excellent personality tools that can help identify those within a team that could suffer when working remotely.  For instance, management would gain a greater understanding of team members that may require more colleague stimulation, are more group dependent or those that have limited self-discipline to achieve work outcomes or lack the motivation and drive required when working within an unstructured environment. 
Understanding individuals within the team will help your management identify, understand and implement mitigation strategies that could improve productivity and more importantly ensure your workforce remain engaged and motivated during these challenging times.
Click on the tabs below to find out more about the different assessments we can administer for you
PAPI 3 (Personality and Preference Inventory)
PAPI is an internationally recognised profiling tool used extensively around the world.  Many know this assessment as "the wheel".  PAPI 3 can be completed online.  It provides valuable insights into an applicant's preferences and behaviours at work and how they may fit into a role, team or organisation as a whole.  PAPI can be used for a number of purposes in addition to recruitment and selection and is available in a number of languages, is culturally sensitive and was first designed by Professor Max Kostick at the Boston State College in the 1960's.
PAPI 3 focuses on an individual's preferences on a sten scale of 0 – 10  regarding their:
Impact and Drive – including Need to Achieve, Need to Influence and Need to Lead.
Organisation & Structure – including Need to Finish a Task, Need for Rules and Guidelines, Attention to Detail, Plan and Need to be Organised.
Ideas and Change – including Need for change and Conceptual thinker
Interaction – including Need to Relate Closely to Individuals, Social Harmoniser, Need to Belong to Groups.
Work Momentum – including Need to be Direct, Work Tempo and Ease in Decision Making.
Composure – including Emotional Restraint, Optimism, Core composure.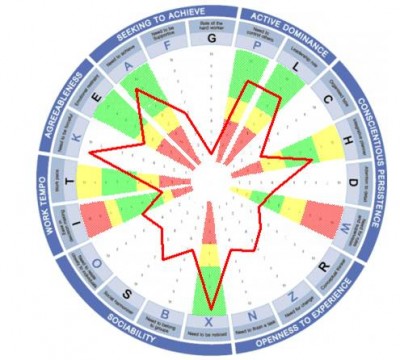 15FQ+ (The Fifteen Factor Questionnaire Plus)
An internationally recognised assessment of personality and individual differences.  The 15FQ+ is based on one of the most researched and respected models of personality, identifying behaviour preferences across Cattell's 16 personality constructs (Cattell, 1946) and the Big Five personality Traits (McCrae and Costa, 1987).  This tool provides an insight into how people typically think, feel and interact.  The 15FQ+ also considers if these traits that could be productive or counter-productive within an organisation.  This assessment can also be completed online, is available in multiple languages and is culturally sensitive.
The Big Five Profile uses a sten scale of 1 – 10 focussing on:
Introversion vs Extraversion
Low Anxiety vs High Anxiety
Pragmatism vs Openness
Independence vs Agreeableness
Low Self-Control vs High Self-Control
The 15FQ+ draws on 15 of Cattell's 16 personality factors and groups them together to reveal:
Interpersonal Styles Profile
Thinking Style Profile
Coping Style Profile
This assessment tool has been validated by using a large global norm group consisting of people from various occupations.  Results can be benchmarked against general population groups or specific occupational groups. Although this assessment tool is mostly used for recruitment and selection purposes, its comprehensive results and findings also lends well to support leadership development, team development and career development training programs.
Contact us to discuss your needs