Merit Solutions had the honour of hosting a visit by Government officials from the People's Republic of China to gather information about the operations of our company and to discuss issues within the Australian job market and human resource management.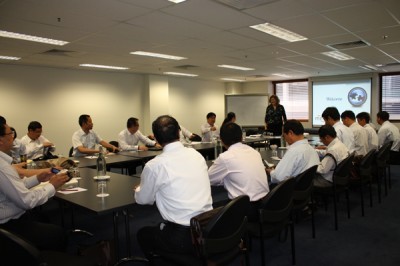 This Chinese delegation includes 19 representatives from the Ministry of Human Resources and Social Security and was lead by Mr. Jianxin Li, Vice Director of the Department of Demobilized Officers Placement. He was accompanied by Chief officials of the Department from Divisions in several different Chinese cities and provinces.
The company's Directors, Anne-Marie Carroll and Ron Passfield, conducted a presentation on the challenges facing Queensland and Australia in the Public Sector. They will outline recent trends in job market research and discuss programs that can stimulate innovation and successfully improve productivity in Public Sector Organisations.
The delegation is being hosted by Newterra Group, who for 15 years, have specialised in arranging trainings and visits for Chinese Government delegations to Australia.