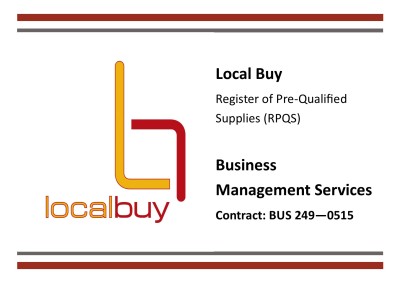 Merit Solutions is proud to announce that we have been included in the Local Buy Register of Pre-Qualified Suppliers for Business Management Services (BUS 249-0515).
Under this arrangement, we can provide services for your organisation in the following categories:
Business Management and Corporate Governance
Corporate Development and Strategic Planning
Business Operational Planning
Organisational Restructures
Operational Improvement
People, Performance and Change Management
Change analysis, strategy and policy development, redesign, integration and implementation to enable successful change in organisations.
Team Development / Building
HR Policies, Manuals & Guidelines
Skills Analysis, Capability and Performance Management
Workforce Development (Succession Planning, Attraction and Retention Strategies etc.)
Ethics, Code of Conduct and Discrimination
Pre-Employment Screening, Verification Services & Functional Assessments
Training and Development
Contact our office on (07) 3220 1166 to confirm how your organisation can engage Merit Solutions under this arrangement.