Consultant Profile
Meet our highly qualified and experienced team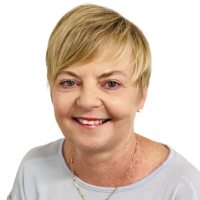 Specialisation
Recruitment & Selection
Shortlisting
Scribing
Independent Panel Member
Employee Relations
HR Policy and Practices
Qualifications
Bachelor of Business Administration (HR & IR Majors)
Career Details
Louise joined Merit Solutions in 2020 after more than 30 years in human resources roles across both the public and private sectors. She held senior HR roles in the Queensland local government sector from 2001 to 2019. Her local government experience encompassed work within both a large urban Council, and a smaller regional one.
Key highlights of her more recent roles of Employee Relations Manager and Human Resources Manager included responsibility for the negotiation and implementation of the Enterprise Certified Agreements. She also took a lead role in a Council wide HR transformational project. Louise is an experienced manager who has strengths in building and maintaining relationships with clients across all levels within an organisation to deliver high quality, compliant and practical outcomes.
Recruitment and Selection, Shortlisting, Scribing
Louise has broad practical experience in the recruitment and selection process including short-listing, developing interview questions, chairing and participating in interviews and obtaining referee reports. She has excellent written skills and is adept in capturing the evidence base for selection decisions.
Louise has managed the recruitment of a wide range of staff from entry level employees to senior executives and across administrative, technical, professional and managerial roles. She has an excellent understanding of the principles of merit- based recruitment and unconscious bias stereotyping. Louise has also advised managers and executives on complex issues in relation to recruitment and selection, including reviewing selection decisions following receipt of a complaint.
People Policy and Practices
As a senior HR professional, Louise has provided strategic and operational advice, support and assistance to senior management and staff on all human resource and industrial relations matters, including performance management and staff grievances. She has also developed, reviewed and implemented HR policies and procedures, including equal opportunity and discrimination policies. She has undertaken specialised training in administrative decision making, workplace investigations and job evaluation methodology.
Would you like to work with Louise?
Contact us to discuss availability and how she can help you and your organisation.