Consultant Profile
Meet our highly qualified and experienced team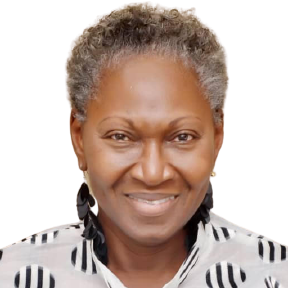 Specialisation
Full Recruitment & Selection Services
Performance Management
Human Resource Strategic & Operational Planning
HR Policy Development
Professional Development Coaching
Qualifications
Master of Business Administration (Executive)
Post Graduate Diploma in Personnel Management
Higher National Diploma in Hotel & Catering Administration
Certificate of Coaching Skills (International Coach Federation)
Career Details
Lade is an international human resource practitioner and accredited coach with approximately 20 years' experience in recruitment and selection, HR project management, performance management and professional development coaching.
Lade was the Executive Manager, Resource and Contractor Management (leader of a centralised recruitment function) in Australia's largest local government organisation (Brisbane City Council). Lade was also selected to work with Athi Water Services Board on a World Bank project where she partnered with business units to attract, select and on-board the talent required to execute their business objectives. She has coached individuals to improve workplace performance and led projects to implement various HR initiatives.
Lade is a trusted HR advisor and people person who is known professionally for her ability to build relationships, influence stakeholders and drive outcomes. Prior to joining Merit Solutions, Lade was the Managing Director of an HR consulting firm specialising in recruitment and selection, HR policy advice and leadership development coaching.
Recruitment and Selection, Shortlisting, Scribing
Lade led the centralisation of the recruitment model for the whole of the Brisbane City Council (BCC) consisting of 9 divisions and approximately 8,000 staff, to increase efficiency and fill vacancies promptly. In this capacity, she developed, implemented, and promoted new recruitment and talent management initiatives in response to changing business needs and employment/recruitment trends.
In her various roles, Lade has contributed to the development and implementation of policies, guidelines, procedures, and standards to improve attraction, recruitment, and selection practices. In addition, Lade has worked with teams to design selection questions, assess candidates, advise selection panels and participate in selection panels for the recruitment of various level of management.
Through her experience at executive level in the Brisbane City Council, Lade has gained an excellent understanding of the principles underpinning public sector recruitment and has managed these functions to ensure both quality and compliance. She is well qualified to support best practice recruitment and selection for government clients, undertaking panel member, shortlisting and scribing assignments up to senior executive level.
Performance Management
With over 20 years' experience in leadership and executive roles, Lade has successfully worked with professionals and emerging leaders from various backgrounds. She has experience managing issues relating to employee engagement & performance. With her understanding of client needs and business requirements, Lade has successfully implemented interventions to address employee performance issues.
Professional Development Coaching
Lade is particularly passionate about professional development coaching and is highly motivated by the improvement she witnesses in her coaching clients. She delivers online, or face-to face coaching programs focussed on improving workplace performance and maximising employee potential.
HR Project Initiatives
Lade has worked as the operational lead in various projects including the implementation of revised remuneration and benefit policies/practices and enhancing workforce capability. She was responsible for resource management as well as project documentation, execution, and evaluation. Project outcomes included:
Influencing all stakeholders to adopt cultural changes regarding recruitment and selection practices
Implementation of a "contractor conversion to employee" scheme which resulted in millions of dollars in savings
Changed practices to reduce the use of agencies to fill "difficult to fill" roles resulting in significant savings
Bridging the gap between the market and BCC's remuneration within "hot skill" professions, including engineering and construction. This resulted in the retention of key professionals enabling BCC to deliver on its major infrastructure projects in a timely and efficient manner.
Other Achievements
In 2006, Lade was selected from Australia to provide workforce capability services to a World Bank project with Athi Water Services in Nairobi, Kenya.
Would you like to work with Lade?
Contact us to discuss availability and how she can help you and your organisation.