Consultant Profile
Meet our highly qualified and experienced team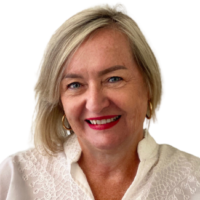 Specialisation
Organisational Development and Change Management
Program Management
Governance and Risk Management
Executive Coaching and Personal Development
Executive Recruitment and Selection
Stakeholder Engagement
Workshop Facilitation
Qualifications
Graduate Certificate, Business Administration – University of Western Sydney
Certificate, Managing Regulation – ANZ School of Government
Certificate in Mediation – Queensland Law Society
Career Details
Kath has over 30 years' experience working at the Executive level in Government and over 20 years of this working on transformational change engagements in both Australia and Internationally. She has worked in government departments and agencies at federal and state levels in the areas of taxation, health, environment, regulation, compliance and transport. Kath has held senior executive roles including Deputy Commissioner, Office of State Revenue in Queensland Treasury; General Manager of the Australian Valuation Office and Assistant Deputy Commissioner (Superannuation) in the Australian Taxation Office. Kath has led projects across all stages of the project lifecycle, from start up to finalisation and is regarded as a subject matter expert in organisational design, change management, governance processes and stakeholder engagement.
Organisational Reviews and Change Management
 Kath specialises in the design and implementation of; business model change with a key interest in the associated change management, workforce impacts; government policy change and the impact on the private sector. Kath helps clients plan and implement complex change to achieve desired business benefits. She takes a collaborative approach to her work and is able to perform well in situations that are complex, demanding and are under political scrutiny. Kath builds strong and trusted relationships with key stakeholders and ensures ongoing support throughout a change initiative. She has developed organisational structures and position descriptions for a range of business areas.
For example, in the United Kingdom, Kath led a significant department wide cultural change program to improve customer service and reduce operating costs. The role involved the development of a new operating model and organisational strategy. Through extensive staff engagement and focused cultural change from the leadership team down through the organisation, significant productivity improvements were achieved in a short timeframe along with improved customer service ratings. These changes included the development of business process improvement programs, leadership development, performance management and performance reporting strategies. During her time in the UK, Kath also provided change management consulting assistance to the UK Health Department.
As a Senior Executive, Kath has led major change initiatives including the downsizing and eventual closure of a significant government fee-for-service provider. She ensured service delivery standards were maintained while transitioning clients to new providers and ensuring staff left the organisationwith pride and dignity. She has the skills to plan and implement significant change while supporting staff impacted by government decisions.
Governance and Program Management
Kath was the Program Manager for a multiyear, multimillion dollar transformational program for several federal government agencies and Industry. Kath developed governance processes for the whole-of-government initiative. For this project she was also the lead on APS Gateway processes and legislative design. Many of these governance processes are now used as best practice in the Australian Public Sector. Kath managed and built large-scale stakeholder engagement with industry to ensure design and alignment of ICT activities, benefit realisation and policy development to enable government's outcomes to be realised.
Her work as an expert advisor with the International Monetary Fund resulted in the introduction of new operating models, governance processes and risk management practices with an international Taxation Authority. The results included measurable improvements in compliance and revenue collection.
Mentoring, Coaching and Personal Development
Kath is a strong believer in developing people by building capability, at an individual and team level. She has worked at all levels of leadership utilising mentoring and coaching skills as appropriate depending upon staff needs and the sector. Kath has coached mid to senior level managers, supporting them to develop skills and capabilities that enable them to perform in current roles more effectively or to prepare them for new roles and or career advancement. Kath also works with teams, at the individual and group level, to improve their effectiveness, appreciate individual strengths, to become high achievers. Kath has worked as an external mentor and coach in government agencies at the state and federal levels and internationally.
Recruitment and Selection
As a senior executive Kath was involved in a range of executive and base level recruitment processes as a delegate and panel chair. She has developed and led national recruitment strategies. Kath is skilled in the assessment of job applications, conduct of assessment interviews and preparation of high quality selection reports. She is able to provide professional advice to senior executive panels or provide an independent perspective as an independent panel member at this level.
HR Policy and Practices
Kath has significant human resource management experience and as a senior executive, Kath played a key role in promoting appropriate HR practice. She had overall responsibility for development, implementation and evaluation of HR policies and procedures and developed user-based guidelines to assist in their practical implementation. Additionally, Kath has conducted investigations into potential breaches of the code of conduct, where she was directly involved in interviewing staff and developing recommendations to drive systemic change.
Would you like to work with Kath?
Contact us to discuss availability and how she can help you and your organisation.