Consultant Profile
Meet our highly qualified and experienced team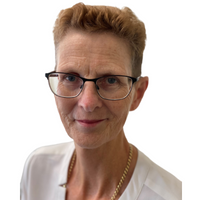 Specialisation
Recruitment & Selection

Shortlisting

Scribing

HR Information Systems

HR Policies and Procedure
Qualifications
Bachelor of Business (Human Resource Management)
Career Details
Julie joined Merit Solutions in 2022 after more than 30 years working in people and culture roles in tertiary education, local government and a not-for-profit charitable organisation.  Her previous senior roles in HR business services included managing payroll, superannuation, recruitment, selection and employment as well as managing key relationships with external providers. 
Throughout her career, Julie has focussed on building strong relationships with internal and external stakeholders, managers and employees.  She has been responsible for providing strategic direction and leadership to HR business teams and ensuring that a corporate approach to HR business services, systems and business processes is established.  Julie has significant leadership experience with teams of more than twenty-five staff reporting to her so she understands the challenges of line management. 
Recruitment and Selection, Shortlisting, Scribing
Julie has extensive experience in the end-to-end recruitment and selection process.  This includes the evaluation and classification of positions, developing selection criteria and interview questions, shortlisting, interviewing and reference checking.  Her experience also extends to the appointment process including pre-employment screening, on-boarding and induction. 
In addition to acting in the role of Chair, Julie has experience as a panel member and scribe for selection panels ranging from traineeships, professional, technical and outdoor roles as well as senior academic positions.  She has also managed senior executive contracts and remuneration reviews in the local government sector.
People Policy and Practices
Julie's previous roles have included responsibility for developing, revising and maintaining policies, procedures, guidelines and training materials to ensure efficient HR business service functions.  She has played a key role in the delivery of training in recruitment and selection incorporating principles of merit-based recruitment, anti-discrimination and unconscious bias.   For a large local government authority, she led the delivery of a Recruitment Strategic Plan.
Other Achievements
In a prior role, Julie was responsible for the implementation of a human resources information system.  This included managing the design, implementation and training of an e-recruitment module, electronic on-boarding and employee self-service.  Change management has been an integral part of her project roles with an emphasis on explaining technical concepts to non-technical audiences. 
Would you like to work with Julie?
Contact us to discuss availability and how she can assist you and your organisation.