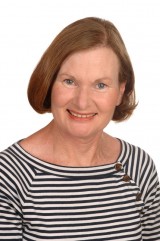 Specialisations:



Recruitment
Selection
Shortlisting
Scribing
Training
Action Learning

Qualifications:



Bachelor of Business (Management)
Graduate Certificate in Higher Education
Cert IV Assessment and Workplace Training
Australian Human Resources Institute, Certified Professional



Career Details
Joan has worked as a Management Consultant since January 1995, mainly in the field of selection and recruitment. Prior to this she was an Internal Consultant with the Australian Bureau of Statistics in the Organisation and Personal Development Section. For several years, Joan was Manager of the Staff Development and Training function for The Australian Bureau of Statistics in Queensland. Joan has also worked as a tutor and lecturer at Griffith University, with the Faculty of Commerce and Administration, in the School of Organisation Behaviour and Human Resource Management. She held a full time lecturing position from June 97 – June 98, before returning to part-time lecturing and consulting for Merit Solutions.
Recruitment and Selection
With more than fourteen years of experience with Merit Solutions, Joan works regularly with selection panels up to and including Senior Executive Service level. Her expertise and advice is valued by clients and she is often engaged as an independent Panel Member as well as "scribe". Her role has involved the provision of expert advice on complex recruitment issues, contact with referees and delivery of high quality documentation. She has worked with a range of agencies across Commonwealth, State and Local Government. In recent years she has worked extensively with panels selecting Engineers, Geologists, Mine Safety Inspectors, Petroleum and Gas Inspectors and Recycled and Drinking Water Quality Professionals.
Organisational Development
Joan has lectured in Organisational Change and Development at both undergraduate and post graduate levels at Griffith University. Prior to this she worked as an internal consultant and Manager of the Staff Development and Training Section of the Australian Bureau of Statistics where she led initiatives in change management, participative job redesign and middle and senior management development. Joan has facilitated work and job design exercises focussed on the development of more efficient and satisfying jobs.
Coaching and Training
Joan has extensive experience designing and conducting a broad suite of training programs which included Recruitment and Selection, Career Development, Presentation Skills, Negotiation and Conflict Resolution and Interpersonal Skills. She was also a major contributor to the design and conduct of four Action Learning based Management Development Programs for middle and senior management. She is currently part of a small group of people who design and organise conferences and seminars for the continuing development of people interested in Action Learning and Action Research.
Memberships
Action Learning and Action Research Association, Life Member