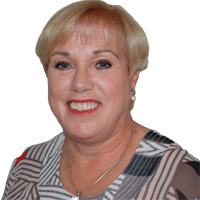 Specialisations:



Recruitment
Selection
Shortlisting
Scribing
People Policy and Practices
HR Management
Performance Management
Investigations
Coaching and Training

Qualifications:



Diploma of Government (Investigations)
Certificate IV in Government (Fraud Control Prevention/Detection)
Career Details
Sandy joined Merit Solutions in 2011 following over thirty years experience in HR Management in a range of Commonwealth government agencies.  Having commenced in 1978 with the Public Service Board, she went on to hold Executive positions in the Industry Assistance Commission, National Occupational Health & Safety Commission, Aboriginal and Torres Strait Islander Commission, National Capital Planning Authority, Department of Employment, Education, Training and Youth Affairs and the Department of Social Security (later Centrelink).
In these positions, Sandy had responsibility to manage employee conditions of service and entitlements, recruitment and selection activities, organisational well being and OH&S, Employee Assistance Program (EAP) contracts and programs, rehabilitation and compensation, performance management and policy development.
Recruitment and Selections
Sandy has vast experience working with and supporting selection panels and delegates in a variety of government agencies, in the full range of recruitment and selection work including advice and counsel regarding selection policies, procedures, candidate selection, shortlisting, interview and outcomes, as well as expert "scribing" services.  She is noted for her provision of expert advice, high quality documentation and timely service.
People Policy and Practices, HR Management, Performance Management, Investigations
Sandy has strong skills in people management, policy and practices.  For over 15 years in Centrelink, Sandy utilised her specific HR expertise and comprehensive understanding of administrative law provisions to focus on conduct investigations, grievance review of employment related matters and management of employee underperformance and workplace disputes.
Sandy also has experience in the co-ordination, review and implementation of employee fraud control strategies, including assessing risks and managing investigations of employee fraud and misconduct including those involving criminal prosecution.
Coaching and Training
One of Sandy's primary responsibilities in Centrelink was the development and implementation of the National Ethics Resource Kit and co-ordination of other recommendations arising from its Enhancing Ethical Culture Project.  A key component of the initiative was specific skills training for all employees. Sandy is highly skilled in ethics training and leadership development particularly as it relates to improving workplace culture. Her expertise in fostering ethical behaviour and recognising and embracing respect and diversity in the workplace has been critical in developing high performance teams.