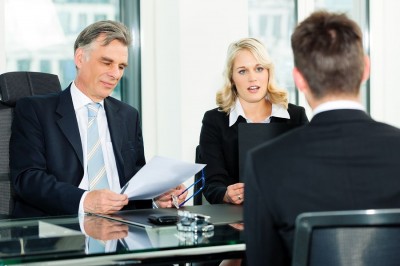 These tips on how to have a good job interview are based on working with hundreds of job interviewers.  The tips focus on the factors that lead to success at a job interview, or at the very least, lead to a good experience for the job interviewee and the Selection Committee.
1.        Prepare
The better you prepare, the more confident you will be and the better you will interview.
Find out as much as you can about the organisation and the role you are looking at – phone the designated contact person, check the website and survey news and journal articles;
Work out how your own skills, abilities and experience could help the organisation meet its goals;
Think about what the interviewers are likely to ask you;
Work out what questions you would like to ask at the end; and
Have a list of recent referees (preferably current or past immediate supervisors) who can speak to your abilities and history at work. Check with them that details are correct and they are happy to provide referee comments for you.
2.        Dress right
Aim to dress for the next level above the job you are going for, and in a way that makes the interviewers feel comfortable with you:
For a man, wearing a suit for an interview for a foreman's job is as much a mistake as coming to an interview for a manager's role in jeans and a tee-shirt.
For women, check that your clothes are right for the organisation and the role, and neither too flirty nor too severe.
Make sure your clothing or accessories don't distract from the message you're trying to get across: that you are the best person for the job.
3.        Make the most of any pre-interview time
Get to the interview location in plenty of time. Excuses are inexcusable – why take the chance? And any waiting time gives you a chance to compose yourself.
When you arrive at the interview, you may be given a work test – focus on the task at hand and use your time wisely.  For public sector jobs, you may be given a scenario and/or a list of questions, and time to prepare for the job interview.  Marshal your thoughts, and make some bullet points as a guide. But don't write out speeches, and don't take so long on any one question you haven't enough time to prepare the others. Time management is an important skill for any job, and the ability to think logically and speak clearly and concisely is important for so many roles.
4.        Aim to make a good impression from the start – and maintain it
The first few seconds when you meet the Selection Committee are critical – so try to engage them as individuals as quickly as you can. Smile, greet them all, behave confidently – focusing on them will take your attention off your own nerves.
Throughout the job interview you need to demonstrate the qualities the interviewers will be looking for in a new employee. Surprisingly, many job applicants forget that they should demonstrate some basic qualities from the outset, such as:
Loyalty to past or current employers. Interviewers are very aware that the way you treat your former employers will carry through to future employers.
Tact and discretion. Ensure you don't reveal confidential or privileged information the interviewers do not have a right to know, or gossip about people you have worked with.
Honesty. Any information you provide, including work experience, projects or activities you have worked on, should be factual. Often job interviewers have personal experience of a project, or know project participants, and may check up on what you said.
Curiosity. If you don't know something, say so – and ask the Selection Committee for clarification or more information. Then weave the new information into your story.
Personal insight. Everyone makes mistakes and has something to learn. Employers like to see that people are aware where they made mistakes, and have learnt lessons from them.
Flexibility. In your battery of stories, try to show that you can be flexible in dealing with situations, rather than just following rules or rigid patterns of operation.
Enthusiasm. Show enthusiasm for work, for the job and for life.
5.        Be a "good" interviewee
The Selection Committee may be interviewing a large number of people, and you want to stand out for what you know and can do, not for the mistakes you make in the interview.
As a good job interviewee, you should:
Answer the question you are asked, not the one you would like the interviewers to have asked.
Strike a balance between too much and too little detail.  But generally you don't need to ask whether you have said enough on a question – the job interviewers will ask if they want more information.
Relate your experience to the job and the organisation they are interviewing for. Whatever wonderful things you have done in the past are irrelevant unless they make you more suitable for this job.
Engage the interviewers individually and as a group. This can mean using their name when responding to a question they posed, and showing rapport by mirroring their body posture. Watch interviewers' faces for signs of interest, boredom or confusion.
Demonstrate good time management. The job interviewers have only a certain amount of time set aside for each interview and pushing them off their schedule by being long-winded and disorganised will leave a poor impression.
6.        Finish well
If you have been well-organised and concise, hopefully you will have allowed enough time to briefly summarise why you are suitable for the job at the end of the interview.
Provide in writing those referee details that you had prepared in advance – including email contacts and your work relationship to them.
When you are asked if you have any questions, bring up the one or two questions that you had prepared previously. If the issue has already been addressed in the course of the interview, say so – it demonstrates your interest in the job and the organisation.
Thank the Selection Committee for their time.
7.          And afterwards…
Job interviews are not a lottery, and sometimes you won't be the best applicant for a job, no matter how well you interviewed. So ask for specific feedback whether you are successful or not. Ask what you did well, and what you could have done better. Interview feedback not only provides pointers for the future, but helps cement a relationship with the job interviewers. You never know where it can lead.
Always consider job interviews as a privilege and an opportunity. You have been selected for an interview because the Selection Committee consider you worthy of interviewing.
So go with confidence that no matter what the outcome, you are valued. If you observe these tips on how to have a successful job interview, you will create a good interview experience for yourself and the job interviewers.