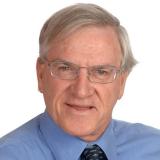 Specialisations:



Coaching for Executives and Managers
Leadership Development
Organisation Development
Change Management

Qualifications:



Doctor of Philosophy (HRM);

Masters of Business Administration
(Organisational Change & HRD)
Bachelor of Business (Accountancy)
Cert IV Workplace Assessment & Training
Career Details:
Ron is currently a Director and an Executive Consultant with Merit Solutions. He also collaborates with Julie Cork and Associates in the delivery of the Practical People Management program to Queensland Government clients. Since 1990, he has consulted as a coach to senior executives in leadership, culture and organisational change. Previously, Ron was a full-time lecturer in human resource management and organisational behaviour at undergraduate and postgraduate levels at Griffith University for more than a decade. During this time Ron designed and facilitated and action learning program for the University of Queensland. This award-winning program conducted over 9 years became the major source of innovation in the University of Queensland and was judged as best practice by the National Committee for Quality Assurance in Higher Education. The project-based program was the subject of Ron's PhD. As part of his action and research thesis, he developed a model for sustainable capacity building in organisations.
During his 20 years in the Australian Public Service, Ron specialised in human resource management and change management. He held many managerial and executive positions in five Government Departments up to senior executive service level. Some key roles included Manager of the P.A.Y.E System in the Australian Taxation Office (Qld and NT, responsible for 100 staff and $700 Million in revenue), Director Training (ATO, Qld &NT) and Director Human Resource Management (Department of Social Security – Qld and NT). In the latter position he was responsible for all aspects of human resource management for 3,000 staff in 30 locations throughout Queensland and the Northern Territory.
Coaching and Training
With Julie Cork and Associates, Ron has conducted 1-2 day workshops as part of an action learning based Middle Management Development Program (4-7 days) for Queensland Government Departments including Queensland Health, Public Trust, Queensland Police Service and Communities. Workshops have been conducted on the Gold Coast and in Brisbane, Cairns, Townsville, Mackay, Rockhampton, Maryborough, Marburg, Ipswich, Toowoomba and Roma. Workshops incorporated modules on giving and receiving feedback, managing staff performance, career pathing and coaching/mentoring. [This program was conducted under the auspices of the Public Service Commission.] Previously, Ron coached 20 senior managers in the vocational educational sector around Australia in change management, supporting the cultural change required to adapt to flexible learning methodologies.
Organisational Development
Ron has 25 years experience as a manager and organisational development consultant. He has designed and facilitated action research processes to address organisational concerns and develop solutions through collaborative analysis and reflection in the workplace. He has also supervised and coached others using action research to address a wide range of organisational or community issues. Other assignments include:
Inter-Organisational Development – Queensland Statewide (2005-2006)
Engaged on a consultancy basis to contribute to building the flexible learning capacity of the Vocational Education and Training sector in Queensland. Intervention involved building collaboration amongst school teachers, TAFE teachers and private providers throughout Queensland who were involved in flexible learning initiatives.
National Organisational Change Management – TAFE Sector (2001 -2004)
National Change Management Facilitator facilitating senior managers from TAFE Institutes around Australia who were charged with developing a whole-of-organisation change management plan to build the flexible learning capacity of their respective organisations. His contract was awarded each year for four years on a competitive contracting basis.
Recruitment and Selection
Ron has been involved in hundreds of selection committees in his roles as an executive, manager and academic. His extensive experience includes Chair of selection panels, panel member, preparation of selection reports, and Departmental delegate on Appeal Review Committees. He was also the Delegated Officer for selections, grievances and discipline processes while he held the Senior Executive Service position of Director Corporate Services for the Department of Social Security (Qld & NT). Ron has trained numerous public servants and other managers in selection processes and trained many senior managers in Government Departments throughout Queensland in discipline and inefficiency processes.
People Policy and Practices
Ron is an acknowledged expert in the use of social networking and new web technologies to support knowledge transfer and learning. Ron's overnight development of a publicly accessible website to share current practices, experiences and learnings in the management of teleworking is one example of the application of this technology to HR and Knowledge Management. Another example was Ron's use over 18 months of a blog to share his research into global best practice in flexible learning and enable sharing of experiences and collaboration across sectors (teachers in TAFE, teachers in schools and trainers with private providers). Ron has led training His background in People Management includes the management of 60 HRM staff providing services in selection and recruitment, pay and conditions, job classification and job design, occupational health and safety, training and development and staff welfare.
Research, Analysis and Reporting
Ron's research, analysis and reporting skills are outstanding. Ron has an international reputation for his contribution to the global development of action learning and action research. He was given the "Master Teacher" award by the International Management Centres Association (IMCA, UK) for his supervision of Master's and Doctoral students who were undertaking organisational change management projects.
Memberships
Action Learning and Action Research Association, Life Member
View Ron Passfield's profile