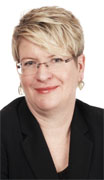 Specialisations:

Recruitment
Selection
Scribing
Shortlisting
Coaching for Job Applicants
Documentation of Tender Evaluations and Workshops

Qualifications:

Bachelor of Arts
Getty Museum Leadership Institute, Graduate
Australian Institute of Management, Fellow
Career Details
Alice-Anne joined Merit Solutions in 2010 as a Senior Consultant working in recruitment, selection and providing coaching for job applicants. She has recently provided administrative/governance, event management and marketing advice to NFP organisations such as the Australian Society of Archivists (ASA) – a peak national association for archivists and record keepers – and Australia's Open Garden Scheme. Her impressive career in arts management spanned work as an arts manager and museum director, including marketing heritage venues, major arts projects, exhibitions and festivals both in Australia and New Zealand. As Inaugural Director of Museum of Brisbane, Inaugural General Manager of the Judith Wright Centre of Contemporary Arts and Inaugural Director of Cairns Regional Gallery, Alice-Anne has a track record of innovation and considerable experience in leadership and management. Alice-Anne has served on the Boards of national and state funding bodies and organisations. Her early career in the Australian Public Service includes three years with the Commonwealth Employment Service.
Recruitment and Selection
With Merit Solutions, Alice-Anne has worked with selection panels in Queensland Government agencies to provide expert "scribing" and selection services. As a senior manager in the Brisbane City Council for seven years, Alice-Anne has significant experience chairing selection panels and managing the recruitment and selection of highly skilled professionals and administrative staff. She has a strong appreciation of merit principles and considerable practical experience in the design of selection processes including the development of well targeted interview questions. Her outstanding writing and editing skills ensure the delivery of high quality selection reports.
Research, Analysis and Reporting
Recently, Alice-Anne produced a major analysis and report on publishing options for the ASA's scholarly journal. This resulted in a significant publishing contract for the Society with a leading international publisher. Alice-Anne was the Project Manager. Alice-Anne was the Project Manager and Researcher/Editor for Brisbane: 150 Stories, Brisbane City Council's major sesquicentenary publication and also edited Griffith University's 2009 Master of Visual Arts Graduation Exhibition Catalogue. She was a Consultant to PricewaterhouseCoopers in a major review of Hutt City museums in New Zealand and Indigenous art centres in Katherine, Northern Territory. She has prepared successful funding submissions to government, private trusts and foundations. Alice-Anne also has considerable experience in the evaluation of tenders and funding proposals and the documentation of recommendations.
Coaching and Training
Alice-Anne has a long history of coaching job applicants in the development of well targeted resumes and applications. Her work as a Lecturer at Griffith University includes teaching students about how to present themselves in professional and industry settings.
Memberships
Queensland Writers' Centre, Member
The Society of Business Communicators (Queensland)